---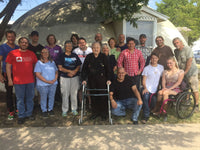 September 17–21, 2024
Welcome back!
For anyone who attended a Monolithic Dome Builders Workshop in the past, you can return as alumni for less than half the cost. Whether you want to brush up on your construction skills, return as a companion to a new workshop student, visit with the experts at Monolithic, or just enjoy the food — you are always welcome.
This special rate is for returning students, only!
If this is going to be your first Monolithic Dome Builders Workshop, you must sign up for full tuition.
Remember, space is limited for each workshop so sign up early to guarantee a seat.