---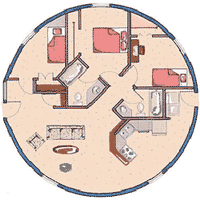 Important: Call us first at 972-483-7423 before signing up for a feasibility study.
Residential Feasibility Study is a practical, helpful tool in the form of a professionally done, very detailed, preliminary evaluation of a Monolithic Dome residence. It includes a comparison of the Monolithic Dome process to other building systems. It defines the design and intent of your project. It establishes a detailed, estimated budget, based on the best available information.
Study does not include actual construction plans, however, the full amount of the study is applied to your construction plans when you decide to move forward.
This is the final step in completing your order for a Residential Feasibility Study. You will be contacted by our Feasibility Department in a few days. Thank you.
NOTE: A completed Word Picture must be submitted before we can begin working on a Residential Feasibility Study.
If you have reached this section in error, click here to read more about how to get a Feasibility Study.