---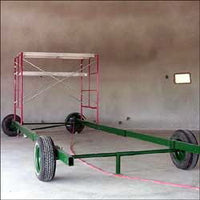 The Paxis Polar Rotating base for standard scaffolding, recently developed by Monolithic, is very affordable and provides a viable solution for efficiency in foam application, setting rebar, spraying concrete, cleaning up and being able to easily and safely move around the dome's perimeter during construction.
It consists of a platform with two tires in back that rotate in a circle; two tires in front that follow the edge of the dome; and two rails, between the tires, that hold standard pipe scaffolding. Complete Scaffold Set is not included.
Click here to purchase scaffolding set
This rotating frame can be used for a Monolithic Dome as small as 20-foot diameter and an large as 75-foot diameter. Base includes 12 metal "feet" which accommodate up to three sets of standard pipe scaffolding which can be set at various elevations. The simple design allows for two-person assembly and disassembly and can be easily loaded onto a pick-up or equipment trailer.
The wheel size is 15 inches. The drive motor requires 110 volts single phase. The clearance is 12 inches under the axel and 14 inches under the side rails.
Weight: 600 lbs. Shipped FOB Italy, TX
Related Links:
Working on The Edge
Related Products: