---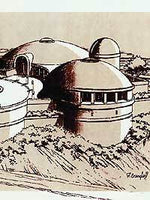 Frederick Crandall is the pioneering architect in the United States who has continuously developed the architectural use of monolithic concrete domes. His development of construction and standard details for use with this unique building system has caused a demand for his consulting services with other architectural/engineering firms.
This book is about "progress", a quiet revolution gradually entering the notice of architects, engineers and developers around the world. Within the last few years, the constructors and designers and users of buildings have begun to notice the continuous introduction of a new product bearing an ancient shape; the Monolithic Concrete Dome.
Here are some sample sketches. 54 Pages. 75 Ilustrations.
NOTE: This is Volume I. Volume II is now available. For a limited time you can purchase Volume I and II together for the special price of $24.95 (while supplies last)
Related Products