---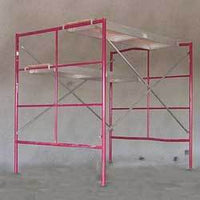 The only reason that we sell scaffolding is that the double box scaffold is generally not available from local scaffold supply houses or not available through special ordering. We like to use the double box scaffold 3 sections high. It seems to be the most practical for the least cost of any scaffold system.
They come with aluminum cased plywood planks, corner posts for the guard rails and braces, and a set of wheels.
Our complete set of scaffolding includes the following:
4 ea Double Box End Frames
4 ea Pins
4 ea Cross Braces
1 ea Gooser
Bar (diagonal corner brace needed for stability when pushing.)
4 ea Casters (8" wheels with locks)
4 ea Male Guard Rail posts
2 ea 5' Guard Rails
2 ea 7' Guard Rails
3 ea 7' Planks.
Call for Quote
Related Links
Related Products