---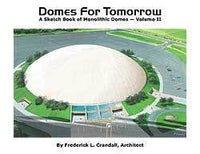 Frederick "Rick" Crandall has played a very important part in expanding the use of Monolithic Dome technology. This book,
Domes For Tomorrow
,is a small part of his collection of plans and sketches. Rick is a most consummate sketcher. With just a few strokes, he can easily illustrate an idea which is most helpful in showing prospective clients his imaginative yet practical ideas.
This book is also available as a downloadable eBook.  The downloadable PDF version is a great way to read the book on your computer, iOS devices, Android devices, or any device capable of reading PDFs.

Rick is extremely serious about being practical. His designs are artistic, delightful and always in the best interest of the client. He can design a beautiful structure for almost any budget.
This sketch book shows many future and completed projects. It covers a wide gamut of plans, from houses to the huge Crenosphere stadiums. Many of the designs shown can be built for 50% of the cost of conventional structures. By paying attention to details and innovations, Rick often generates great savings in construction and ongoing operation for the client.
Related Products