---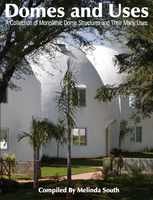 Now available is an updated edition of the popular book, Domes and Uses – A Collection of Monolithic Dome Structures and Their Many Uses. This full-color soft bound book is a collection of projects, proposed and finished, demonstrating the options, possibilities, and the wide diverse utilization of this technology.
This book is also available as a downloadable eBook.  The downloadable PDF version is a great way to read the book on your computer, iOS devices, Android devices, or any device capable of reading PDFs.
It includes recent photographs of Cloud Hidden, a 7,000 square foot home built in Asheville, North Carolina; Yuma Dome, a multi-generational home built in Yuma, Arizona; and updated photos of New Oroville, an entire city of single, multi-family homes and offices built near Hyderabad, India for Catalytic Software employees and more.
In addition to photographs and design details for educational, residential, commercial, storage, athletic and religious facilities, the appendix includes information about the Monolithic Dome's strength, energy efficiency, survivability. Also outlined in the book are ideas on how to design your own dome home.
At $19.95, the downloadable version of this book is a bargain! Domes and Uses makes a great gift for dome enthusiasts and an effective sales tool for dome builders. Share a copy with friends and family to help them better understand the benefits of building such a structure.
Order your copy today.
Related Links
Related Products