---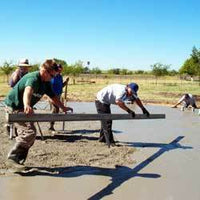 The Monolithic Dome Training Pak consists of approximately seven hours of DVD, plus informational books on DVD and manuals. Anyone with some mechanical aptitude and the desire will be able to build a Monolithic Dome after studying these materials.
The DVDs are hosted by David and Randy South (two of the three original patent holders for the Monolithic™ Dome). These DVDs contain the knowledge and experience of over 20 years in building thin-shell concrete domes. Included with the four DVDs is a variety of printed materials. Most importantly, when you purchase the Monolithic Dome Training Pak you get $250 credit toward your first Airform, making the Training Pak free!
Over 200 topics are covered such as, "What is concrete?" and "How to Measure Aggregate." These subjects are explained in plain English and backed by video of the actual processes of construction. The tapes also include information on the EcoShell structures. So detailed are these DVDs that we encourage you to watch them several times to fully understand the Monolithic Process.
These audiovisual materials are not works of art, but they do convey vast amounts of information that has taken us many years to accumulate.
The training information comes on a USB drive or as a printed version. All movies will be on the USB Drive. We no longer offer DVD copies.
The Thumb Drive Includes:
Manual of Construction
Dome Living EBook
Domes and Uses Book
Dome Calculation Spreadsheet
Rental Plans
4 Training Pak Videos
and more...
Related Links
Related Products