---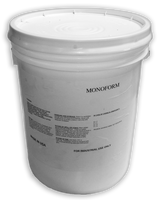 Monoform Primer is an acrylic (water based) emulsion primer for use on Airform structures; it serves multiple functions in this capacity.
As a primer on the interior and exterior of Airforms, it enhances adhesion of polyurethane foam, coatings and concrete to the Airform. Monoform Primer stops plasticizer migration into polyurethane foam and other coatings even at elevated temperatures (140 degrees).
When properly applied, this product dramatically decreases or eliminates delamination occurring at the Airform interface. Sold in 5 gallon buckets.
Read Web Article Regarding Monoform Primer "Monoform Primer: What's it all about?"
Excerpt from monolithic.com article "Polyurethane Foam Application"

"If you want something to stick to the Airform you need to use a primer! Pretreating the Airform with Monoform Primer is an absolute must! Use of Monoform Primer creates a better bond between the Airform and the foam – acting as a glue for the foam. It can be applied with an airless paint gun over the entire interior Airform surface. It can also be rolled on. A thin layer is all that is needed (300-400 sq. ft. per gallon). Let the primer dry completely before applying foam.
Related Links: