---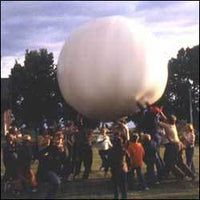 "OMEGAball" stands for Oversized, Monolithic, Enormous, Gigantic, Airformed Ball. The OMEGAball comes three sizes: 6 ft., 8 ft. and 10 ft. They are constructed using the same material we use to build the Monolithic Dome. We use super tough 22 oz. nylon reinforced PVC fabric. These are substantial toys, but not TOO terribly heavy.
How do you play OMEGAball?
Object: Push the ball over the other team's goal line.
length of Game: To be determined by the stamina of team players.
Points System: To be established by team members. Can include extra points for opposing team members who pass out.
Acceptable defense/offense: No sharp objects.
Fouls:A foul will be given to any player who causes another player to cry. Fouls are also given to the player who does the crying. The foul penalty is determined prior to play.
Related Links
OMEGAball! The Final Ball, The Greatest Game
Related Products
009/07 ns